Some of the most beautiful work of this craftsman, and many others, are in this book "Liège Gunmakers through their Work. 1800 - 1950".
For more detail see: LIEGE GUNMAKERS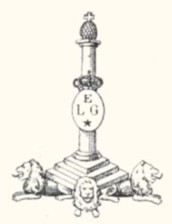 Ancion Marx Constabulary
This revolver is of Police Force or Constabulary type, caliber .380, Octagonal barrel, half-moon front sight, rebounding hammer lock, trigger with trigger guard, checkered wood grips metal cap with ring, loading through a side door opening backwards.
Only one stamp of the Liege Proof House is visible, i.e L 1 Star which is the countermark of the controller (post 1877).
CAL 380 or 9 mm rimmed short .
LAM in a triangle is of course the mark of Léopold ANCION-MARX street Grangagnage, 26-28 in LIEGE, registered on 12.10.1897.
GG