Some of the most beautiful work of this craftsman, and many others, are in this book "Liège Gunmakers through their Work. 1800 - 1950".
For more detail see: LIEGE GUNMAKERS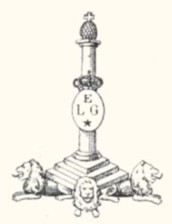 Ancion Marx Bull dog
Small Bulldog type revolver, centerfire, 6 shots, cal. 320 by the "Manufacture d'armes L. Ancion-Marx" (LAM) (founded in 1890), Smith & Wesson type grip made of gutta percha , axial safety, black finish, folding trigger without trigger guard .
Manufactured between 1897 and 1920
This model was available in black or nickel plated, in cal. .320 (Prices Ca.1910)(7,90 BEF=US $ 0,23) and .380 (8,25 BEF=US $0,24), with or without axial safety (additional charge 0,60 BEF), with or without engraving (additional charge 0,50 BEF); the 380 supplied upon request with or without trigger guard.
A French firm manufactures the necessary to reload this type of ammunition.
Look at here: H & C Collection